Beauty in industry is everywhere, in the brilliant hues of threads that are spun by massive weaving machines that produce sounds that range from a low, almost comforting hum to a jangling clanging never ceasing banging.
The juxtaposition of these elements, highlighted by the dramatic colors and textures of his subjects make Christoper Payne's photos of the last remaining textile mills of New England come alive. It feels like we're somewhere that we shouldn't be, after all, we're supposed to reserve the oohs and ahhs for the finished product.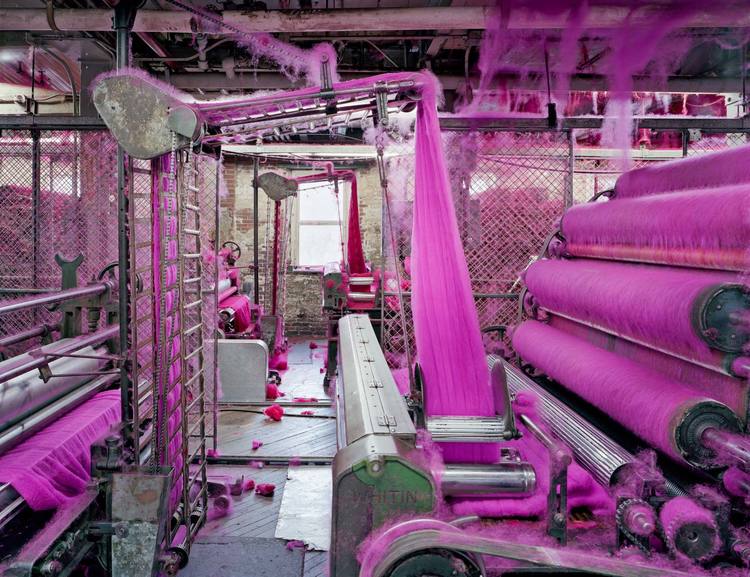 Looking through some of these photos, you might think that Mr. Payne is showing us the last remnants of a once thriving American textile and apparel industry, a decades long march towards the dustbin of history.
If this were the late 1980's, early 90's,  we'd be right,  these industries were decimated, 77% of the American textile workforce was lost over the last three decades.
Today, the landscape is slowly changing. These industries may not ever employ the thousands and thousands of people they once did, but companies are now investing in people and machines. The rising costs in China, the political instability of regions where extremely low cost labor is still available, and the inability to maintain supply chain quality are the big factors that are causing companies to rethink manufacturing in the US.
Additionally, the small but growing demand for American made products, innovations in technology, the availability of near just in time manufacturing, customization, and the rising costs of shipping and warehousing have all contributed to the slow but steady rebirth of American textiles.
The challenge facing the industry today is the lack of skilled workers. Enter the Makers Coalition, an effort formed through a partnership of manufacturers, recruiters, skilled tradespeole and local governments to build craftspeople from scratch. Although much of textile and apparel manufacturing is automated, there is a need for human hands that can quickly and skillfully sew.
Airtex, profiled in this NYT piece is always looking for sewers, and as of 2013 has moved 70% of its production back to the US.
A brand new venture, Tuckerman and Co., moved into a vintage textile mill in New England, and makes gorgeous men's shirts in classic fabrics. The craftspeople's work here is the latest chapter in the colorful history of New England textiles.