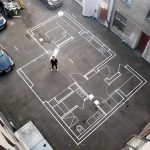 For a millennia, or as long as I've known anyway, stage managers and designers have taped or chalked out ground plans on the rehearsal room floor. This allows the actors to have an early idea as to when they might be bumping into walls. It also allows the director and the designers to see if there are issues with the built environment before that environment is, well, built.
That sees producers money. Producers like that.
Norwegian architects Vardehaugen study their own work by creating schematics, not only on paper or pixels but also in the courtyard behind their office. Like Stage Managers, they use tape, chalk, and lasers, to map out structures and to help develop a see size and proportion.
The ability to visualise the unbuilt is an important part of the architectural profession. Both in order to evaluate and communicate concepts and solutions.
The bodily sensation of scale or the notion of simply walking through a room cannot be experienced through traditional 3D visualisations or scales models. Architecture is not an abstract geometrical size, but something concrete that relates to our bodily existence and the world around us.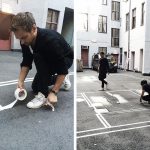 Never heard that before.