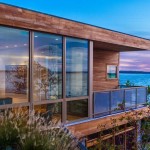 Blaze-Makoid Architecture, whose Flash driven website does not warrant a link, designed this wood and stone house that overlooks the New York coastline. It has a has a pool and deck that directly look out onto a nearby salt marsh. The Long Island home has views of Sag Harbor Bay, Northwest Harbor, and Shelter Island. Not bad, right?
Wrong.
It all goes south when the small foyer has space for a piano, with a living room location on the other side of a dividing wall. Small Foyer? Piano? Even though it's only a baby grand, a foyer wth enough space for a piano, is too big.
These designers must have been absent the day they discussed and were supposed to have learned proportion in architecture school. This house proves my theory.
Pity, great location, terrific materials. Horrible finished product. Don't trust that one picture.