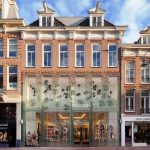 and a cool design choice at that. I wonder how I would render these using Vectorworks and Renderworks? Seems easy enough, and straight forward enough.
Apparently glass bricks, not glass blocks (they're different) are as strong as concrete. How far away can transparent aluminum be? The see-through glass brick used in this Dutch building facade combines the look of  bridge traditional brick work with transparency/translucency The assembled brick structure has been tested and shown to be as strong as concrete; able to support heavy loads in compression like its opaque, read, and earthy predecessor.
The Dutch are known for their brick. As opposed to the Belgians who are known for their block. Additionally, the Dutch are known for their Bonds. Brick Bonds. All of this means there is a certain color and pattern often expected in The Netherlands. Big glass transparent and/or translucent facades are not expected and would disrupt the overall context of a street scape.
Until now, and until Chanel.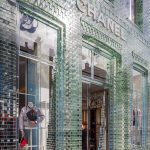 On this facade, the glass bricks are held in place with see-through glue. The new brick helps support the remaining terracotta brickwork on the upper floor. The patterning of both types of bricks helps to transition the appearance. The beautiful and structurally-sound result stands out andt also lets additional light into the shop.