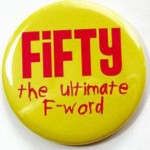 Kudos to Broadwayworld.com for featuring The Other F Word, as designed and produced by Kathleen McDonough of KLAD.
Kathleen McDonough, president of KLAD, the award-winning set and light design firm based in New Jersey, will have a duo role as producer and production designer on the new digital series, The Other F Word. The comedy centers around
four girlfriends, who are discovering that the angst of raising kids may be nothing, compared to the angst of starting a new chapter of their lives after the kids are grown.
Kathleen and her partner Kevin Lee Allen are known to theatre insiders for their scenic and lighting design work on a variety of projects including, the Surflight Theatre production of Steel Magnolias, Andrew Lloyd Webber's All I Ask of You, Richard Brinsley Sheridan's play, The Rivals and Haley Swindal's cabaret debut act, Play to Win at Feinstein's 54 Below. As well, they have been involved in a variety of non-theatre related projects that included designing the sets of CNN's The Larry King Show, and that of Fox News in Washington D.C. Last summer they were also responsible for creating the Budweiser Beechwood House, a VIP lounge area for the Budweiser, Made in America Monument Series that traveled from Liberty Island to Crissy Field in San Francisco.
Kathleen will be working along side Caytha Jentis (Bad Parents, And Then Came Love), the writer/director/executive producer of the series, and a dynamic cast that includes actor Steve Guttenberg (Police Academy, 3 Men and a Little Lady, Veronica Mars), two-time Emmy Award winner Judy Gold (The Rosie O'Donnell Show, All American Girl), Michael Boatman (Spin City, Bad Parents), comedian Ben Bailey (One Life to Live, Bad Parents), Reiko Aylesworth (Off-Broadway's Robbers and television's One Life to Live, Lost), Holly Cate (Broadway's An Ideal Husband and television's As The World Turns, The Guiding Light), LeeAnne Hutchison (Two Guys, Gertrude Stein's Brewsie and Willie), and Stephanie Little (Stuck, Killing the Apologetic Girl).
Production on The Other F Word begins on March 12, and the single camera series will be shot on location in New York and New Jersey.