Because we tear the nice things down.
We are building huggers. We discuss here and in real life, the importance of Historic Preservation and adaptive reuse of the building stock. We see this as good policy and planning. Especially since we don't teach taste and art appreciation anymore. Reuse is also a green solution.
We have always understood that the New Jersey Beach communities known collectively as The Wildwoods were committed to preserve what they call the Doo-Wop architecture that abounds in those towns. That same futuristic style is also known as Populux or Googie architecture. Dating to the 50s and 60s, this is the vision of the future from that time. It speaks to a better world. We need that vision.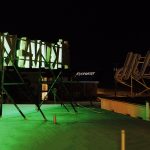 Well now, the Wildwoods apparently no longer feel they need that vision, they feel they need condos. OK, great, but couldn't these buildings be converted, modified? The Doo-Wop architecture has long been a draw, it could also be a selling point. Unless it gets torn down.
We are also unabashed modernists and these places are unabashedly modern. On thing we like about adaptive re-use is how the changes might make an old structure into something modern. The key is to preserve and enhance the details.
Taste, elegance, context are all key. No good can come from bad design, but good design, and good ideas and add elegance. As a general rule, oder construction was built for the ages. Newer construction is often built for quick profits. What would you want to hold up to the salt air and storms at the oceanside?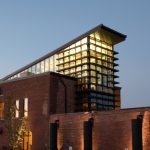 We continually seem to repeat the same mistakes. We don't learn from out neighbors. In the US, we had urban removal in the 1960s. The Brits did as well. Although we do like our Brutalism, destroying neighborhoods isn't the way. Destruction without planning and study is just destruction. Then we end up destroying what good might have come from the initial destruction.
Although we are fans of Modernism and Brutalism, it's hard to be a fan of architect John Portman. He is responsible for the Marriott Marquis Hotel in Times Square, and for Atlanta being the perfect film location for Dystopian Futures.. While the hotel is also the home of the Marquis Theatre, that space is a barn and three lovely playhouses were demolished to make way for the hotel. Broadway could use those theatres.
That was 30 years ago and while have clearly never been fans of the Marriott, we would have to really consider allowing the building to be demolished, or have it's essential self altered. Here's to hoping the Wildwoods think carefully about their assets.