And the people at Kozē are redefining Good Design with a really Good Hammock. Everybody needs a hammock and this is one that can always travel with you.
A Kozē is a lightweight, six-foot sack that inflates by simply waving through the air. No trees, no rigging, no metal base required. Made of water-repellent parachute material with high-stress stitching, the Kozē holds up to 400 pounds when inflated and will keep air for up to six hours of lounging. It's kind of a couch and kind of a hammock.
The primary gag is the simple inflating mechanism; the Kozē has an opening at one end and inflates by trapping air when it's waved around. Once inflated, the end is rolled over and snapped shut. Seems like it is really zippy, so you can have a hammock anywhere. Anytime.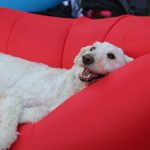 When you're done lounging, the Kozē deflates almost instantly and can be rolled up into a shoulder bag, The whole system that weighs less than two pounds.
If the Kozē works as advertised, it will be a hit and a half. Kozē is available in various colors for $80 on Kickstarter and begins shipping in June.