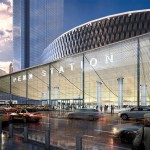 Well, it was going to be called Moynihan Station. Maybe it could be Kid Cuomo Station, he designed it after all. Or so it seems, his copyright is all over the conceptual renderings. Think of what New York State is saving on artists, engineers, and architects.
In 1963, New York City's McKim, Mead and White designed Pennsylvania Station was demolished. The only good that came out of this sad event ws the creation of the New York Historical Preservation Commission, which for many years prevented similar destruction elsewhere, Lately, that group has become a shadow on its once proud traditions.
The new Penn Station, Madison Square Garden, and the associated office towers only serve to remind anyone near that spot of what was lost. Sometime ago, Senator Daniel Patrick Moynihan put forth a plan to transform the James A. Farley Post Office into a world-class transportation hub. Someone must have told Governor Cuomo. Someone might have also passed along the Picasso quote: Good artists copy, great artists steal.
Penn Station is the heart of New York's economy and transportation network, but it has been outdated, overcrowded, and unworthy of the Empire State for far too long, We want to build Penn Station to be better than it ever was, and that is exactly what we are going to do. This proposal will fundamentally transform Penn Station for the 21st century, and we are excited to move forward with the project in the days to come.
Governor Cuomo.
We think this is terrific, and long overdue. Washington DC showed the world what can be done with a downtown train station years ago when they renovated and brought Union Station back to life. That magnificent facility is now a transportation hub, and also an economic generator and destination.
Cuomo's $3 billion project plans to modernize Penn Station by connecting it underground with the Farley Post Office, and first-class amenities like, natural light, increased capacity, decreased congestion, and improved signage. Penn Station located under Madison Square Garden, will undergo significant renovation.
The Post Office will become a new Amtrak station with services for passengers of the Long Island Rail Road, New Jersey Transit and a new Air Train to LaGuardia Airport.
These are all get ideas, but the governor should take his name off of them. It's OK to be the champion of other people's ideas.
The project is aiming to break ground this year and complete by 2019. That would be nice, but we hear it's already behind schedule.