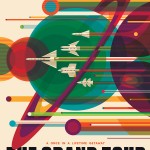 NASA Swag has always been some of the best swag around.
When we were kids, we wrote away (there's a now underused phrase) to NASA for stuff. That's what we now call swag; NASA Swag. They sent all kinds of things, primarily stickers and literature. Always beautiful. I guess the whole space stuff thing attracts talented designers. Clearly, NASA is not just government work. Gotta love the NASA logo.
NASA always put forth a powerfully positive message about the future, even if some of the messaging clearly warned about the challenges presented by polluting the planet. Challenges we now live with. Challenges and lessons we find hard to comprehend, the information has been around for a very long time.
But I digress.
NASA has a faux travel agency in the graphic design studio at the Jet Propulsion Lab. They may have ideas and goals that are a wee bit grandiose, but big dreams lead to big achievements. Small dreams lead to even smaller achievements.
While mankind won't set foot on another planet for at least another bunch of years, zipping off 42 light-years for some super-Earth skydiving will probably be another lifetime. However, anything that keeps the public interested in the grandeur of space exploration is a worthwhile endeavor.
Over the last couple of years, and very recently, the rocket scientists of artists have created 14 WPA style trade posers for our solar system and the galaxy beyond. These are free to download! Collect them all, we already have.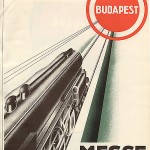 Travel Posters have a special kind of romance, especially those that are illustrated rather than photographic. Not that photography can't be romantic and illustrative, but often the travel images chosen are banal.
If there was a golden age of exploration on Earth, it was hundreds of years ago. It's hard to engage with something that happened many generations before we were alive. If there has been a golden age of space travel, and that would have to be very relative, that time was in the 1960's. Still a pretty good long time ago. It is time to re-embrace the idea. Star Trek films and a new television series will help to create a new energy about space travel. As will these posters.
Space and romance, perfect together, especially right after Valentine's Day.