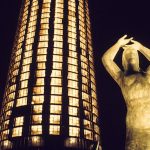 Loyal readers know that we're huge fans of Brazilian Architect and Design Oscar Niemeyer. So, obviously, we were thrilled to read that his iconic Hotel Nacional will reopen this weekend as luxury resort on the beach in Rio de Janeiro. Now, all we need is a project in or near Rio.
This shot of the Hotel and Alfredo Ceschiatti's Mermaid statue out front is the perfect Niemeyer image marrying two of his great interests, the curves of a woman's body and the curves of his architecture. I am surprised Niemeyer didn't create is own state, I mean, c'mon, a mermaid? Of course, mermaid could be a metaphor for the building.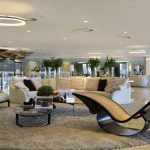 It's often said that Niemeyer drew inspiration from the curves he saw gracing Rio's beaches. It's only fitting that the modernist icon designed this mermaid by the sea. Rising up from the beach of Rio's São Conrado neighborhood, the hotel is just a short drive from his famous Das Canoas House. The glass-and-steel structure was one of his later-period masterpieces, a gleaming tower atop a gorgeous, curvaceous base.
For 20 years, it's been a ghost; abandoned and neglected, and covered in graffiti. Thankfully, that will soon change. Businessman Marcelo Henrique Limírio Gonçalves bought the property in 2009 for a mere $35 million. Now restoration is almost complete, officially set in motion recently, when architectural firm VOA won a competition to retrofit and reopen the landmark building.
VOA has restored the entire structure while working with the Landmarks Commission and the project's original structural engineer and a long-time Niemeyer collaborator Bruno Contarini. He must have some stories.Plans call for a 476-room hotel, 240+ apartments, an exhibition space, a spa and a Niemeyer Bar on the top floor.
Sketches of the building plan from Niemeyer himself will be used for a wallpaper pattern that will adorn part of the interior.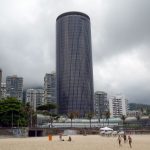 Project Architect Marcos Bastos says; It looks like someone went at it with a knife, There are no straight lines at all. Why would there be? The idea is to emulate the past, but bring it up to speed with current ways of running a hotel by slightly altering circulation and layout to accommodate contemporary needs.
A cache of original Niemeyer sketches has helped Bastos and his team stay true to the architect's original intentions. We'll be watching for the new photos!