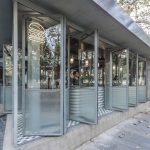 So this post is about a better restaurant design than this one was, These designers clearly had a concept and a post of view. We might, and we will argue, that they went a little overboard, but at least they seem to have a had a proper starting point. Even if they or the client didn't evaluate the work as it progressed.
Unless, of course, they set out to prove that the truism too much is never enough might be wrong. At least you can't tell that the place has totally jumped the shark from the outside. The exterior reminds us of the recently lost Market Diner in New York City.
Either would seem to be completely out of character to be located, as this place is, in Shanghai, China.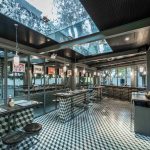 Rachel's Burger is the quintessential American burger joint or diner. Conceptually anyway. Rachel's offers an old school indoor eatery with an outdoor feel – courtesy of the ample windows, which also double as fold away doors that can be pulled back for warm days.
The monochromatic flooring which uses handmade 1930's Shanghai tiles is reminiscent of the 50s. So, the place will remind those who lived through the era, or who experienced the 50s nostalgia of when dining out with family was the treat of the week.
Not having had the food, so we can't comment, it's the tile that runs amuck and takes the design integrity up up and away. Too much here is just exactly that, too much, The guest eyes have no reasonable place to land and rest. I get exhausted just posting the pictures.
Busyboo says; this route one'esque, Californian inspired alley site diner is truly a dining destination must. Not so really. And while Shanghai is a worthwhile designation, there are many other reasons to go there. Chinese food comes to mind.