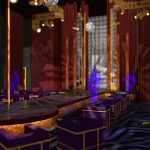 My webinar Rendering Techniques to Empower your Entertainment Design Workflow will be broadcast tomorrow, Tuesday 26 July at 2PM, Eastern Daylight Time. Register now whether you can attend then or not. After the live broadcast, the fine folks at Vectorworks will make the video available on demand. Kinda like Netflix,
Perfect summer beach viewing.
So, direct from Vectorworks' mouth:
Join award-winning entertainment designer, author, and producer Kevin Lee Allen as he explores time-saving rendering techniques that improve collaboration and enhance communication. Attendees will walk through some of Allen's recent projects to understand how to incorporate Renderworks® software into their everyday workflows to make more comprehensive project visualizations. Allen will also discuss how he uses Renderworks techniques, textures, lights, and render styles to enhance his own workflow. In the process, he will demonstrate how he uses the integration between Vectorworks® Spotlight software and Renderworks to create signature looks.
Learning Objectives
Understand the benefits of Renderworks software's integration with Spotlight.
Discover how to improve your project collaboration and communication techniques.
Learn new ways to make more compelling presentations by adjusting textures, lights, and render styles.
Understand how to take advantage of Renderworks software's visualization capabilities.
So, I'm looking for to seeing many of you online tomorrow, Hoping for great questions.