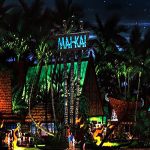 Sure there are lots of so called Tiki Bars, but they all seem to be Tiki in name only. The original Don The Beachcomber places were the real deal. The Mai-Kai in Fort Lauderdale is perfect.
Days like today cry out for a proper Tiki Bar experience. Martell's Tiki Bar on the beach and boardwalk in Point Pleasant is probably the best know, but it really lacks the decor The Trop in AC claims to have a Tiki Bar, and it is a swell place, just not actually a Tiki Bar.
Lee's Hawaiian Islander in Lyndhurst, and formerly also Clifton (before the fire), is just kind of right, but totally land locked. They need a bit of a spruce up, a floor show and a website.
Modern Tiki restaurants and bars showcase their tribal roots with bright colors, flaming torches and statues of Tikis, the original man in the Polynesian culture. Make no mistake, this isn;t real Polynesian Culture, this is American culture through and through. Lounges, live island bands, thundershowers and stage shows are required.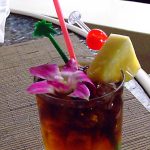 Although the rum-based drinks like the mai tai and Zombie are even more required. Most tiki-themed establishments serve at least some of their cocktails in ceramic mugs depicting tikis; also known as tiki mugs. Styles and sizes vary widely. Collect them all
Many restaurants offer signature drinks in a tiki mug that can be taken home. This led to a large number of tiki mugs surviving as souvenirs. So, the tiki mug is a highly prized find and is  a symbol of the Tiki culture as much as a tiki itself.
Since the later part of the 1990s, there has been a resurgence of tiki culture, especially in the original exotic cocktails.
Tiki Gods must maintain their scowling disposition.