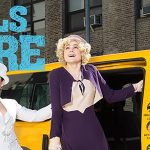 It's the official opening day/night of NYMF! Loyal readers know that we have been active supporters of NYMF for a long time. The annual festival of new musical theatre began last eek with a series of reading, but the meat and potatoes; full productions begin today, and the opening night party is tonight!
Who doesn't love an Opening Night Party; it's often why people invest in  musicals on Broadway.
So today begins repertory performances of 18 new shows. The listings include everything from cabaret to Opera, with everything in between. What are you going to see?