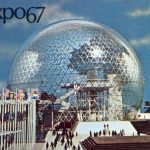 We're sure many Americans are thinking of Canada. We are, and do often, and especially often of Expo '67 the modernist World's Fair held, well, in 1967. He are some the reasons to pack up on a hot summer day and head North.
The 1967 International and Universal Exposition or Expo 67, as it was known, is considered to be the most successful World's Fair of the 20th century with the most attendees and 62 nations participating. It also set the single-day attendance record for a world's fair, with 569,500 on one day. Expo 67 was Canada's main celebration during the nation's centennial. Some remains.
Here are a couple of things we like.
Habitat 67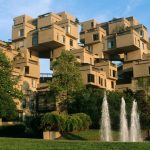 Since completion, Habitat '67 has been an architectural landmark in Montreal and Canada. It was declared a historic site by Quebec in 2009. The unique structure launched the career of Israeli-Canadian architect Moshe Safdie, who designed the cube-tastic complex as part of his thesis project for the architecture program at McGill University. Habitat '67 was constructed as a model housing complex, Safdie's vision for the future of urban housing in an increasingly crowded world. The complex is made up of 354 identical pre-made cubes artistically and strategically stacked together to make 148 apartment units. Habitat is now a co-op.
Montreal Metro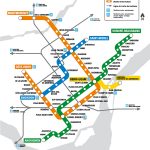 When you build a world's fair, you ought to also build a subway system, if you don't already have one. So, The Montreal Metro (Métro de Montréal) is a rubber-tired, underground train system, and now the principle  form of public transportation, in Montreal. While not exclusive to Expo '67, it seems to be a residual benefit.
Much like the musical Cabaret, the map is beautiful, the stations are beautiful.
There is and was a lot beautiful about Expo '67 and Montreal.