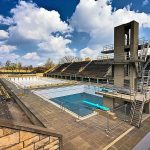 Well, it is that time again/ Time for Olympic Architecture and Design. This could provide subject matter for the whole month. So much bad.
Here's a dose
Like so many other complexes built at great expense for these events, on the edge of Berlin you can find, and even tour, the abandoned remains of Hitler's Olympic village, built for the Nazi Games of 1936. I have not found that this complex we designed by Albert Speer, known as Hitler's architect, but it does look that way. As a designer, Speer created designs that clearly spoke to honored Hitler's ideas of Aryan supremacy.
Such squandered talent.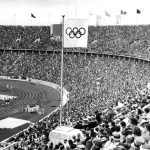 Germany won the bid to host the 1936 Summer Olympics two years before the Nazis came to power. Reich Chancellor Adolf Hitler saw the Olympics as an opportunity to spread Nazi propaganda and build up Germany's military machine.
Hitler oversaw the construction of his Olympic village. It was designed to portray a peaceful Germany. The 1936 Olympic Games were the first to be televised. While Hitler named the complex village of peace, even if  the army planned to use the complex after the games.
Hitler tried to force his anti-semitic politics on the event, attempting to forbid Jews and blacks from participating. Despite Hitler wanting to showcase the superiority of the Aryan race, American Jesse Owens won four gold medals.
During World War II, the complex was a hospital for German soldiers. After the war, it became a  barracks for the Soviet Army stationed in East Germany. The Russians, good guys that they are, used the swimming pool and training facilities for KGB interrogations.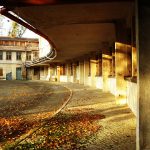 After the fall of the Soviet Union and the re-unifcation of Germany, the complex sat abandoned  and fell into ruins. The Nazi history makes it a source of shame. Recently a few athletic events have been held at the site and efforts are underway to restore the complex into a living museum, and townhouses/apartments for Berlin's rising population.