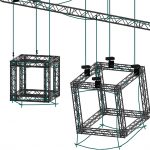 Vectorworks 2018 is coming, we knew that, but now we can see into he future. Of course, that's just because our many fine friends at Vectorworks have decided to tease hints at new goodies, I mean features. Just to make the wait feel longer. September (when new versions usually appear in the wild) is a long way off to begin with, but when a useful tool like this is exposed, that makes September feel like more than five months away.
Today, Vectorworks announced Braceworks .
A 3D Finite Element Analysis (FEA) add-on for Vectorworks Spotlight, Braceworks provides design, production, and rigging professionals with an easy way to gauge the performance of temporary structures under load to ensure safety and compliance with engineering codes and standards. By adding Braceworks into Spotlight, it offers a completely integrated entertainment modeling, analysis, and documentation process.
As we see this, Braceworks won't eliminate the need for a structural engineer, but will make it easier for designers like us to determine a preliminary degree of insanity when conceptualizing new ideas. This is not to say that we expect our engineering and fabrication colleagues to have many fewer headaches, but certainly fewer headaches. We also expect that Braceworks will give us ammunition when we're told; that can't be done.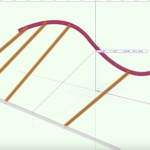 Vectorworks Designer already includes the Create Surface Array Command, and  the Structural Member Tool which allows for the rapid design of clever and creative structural systems. Read that curved beams and steel structures that will continue to give our engineers and fabricators sleepless night, while at the same time making our client happy and exceited. Sounds like a win-win.
It looks, at first glance, as if Braceworks will totally integrate with Spotlight's Truss Tools. They are the building blocks of much of any entertainment designer's work. Ours included.
The Nemetschek family, parent of Vectorworks already includes the powerful Scia Software which facilitates collaborating with engineers. Scia is, frankly, another amazing tool.
Like an unexpected holiday, ConnectCAD also announced new features today. All good for our colleagues in broadcast, Audio and Multi-media.
Along with this gratiutitous rehearsal shot or our friend and colleague comedian Gerald Kelly, we can't wait to see what's new in Vision!