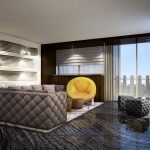 Although now mainly known for its name in biggest political scandal in US history (as well as any that have followed), The Watergate Hotel is looking to remake its reputation as one synonymous with luxury instead of litigation.
The Watergate is also an office and apartment complex. We would live there. This is magnificent modernism on the Washington DC riverfront. Architect Luigi Moratti was inspired by the flowing Potomac. His plan and exterior show that inspiration.
Now, the hotel's guest rooms and interior spaces have been completely revamped with designs by Ron Arad. Staff uniforms have been spruced up by Mad Men costume designer Janie Bryant. Off the lobby, you'll find the cleverly-named The Next Whisky Bar (how bad can that be?), which joins Kingbird restaurant and the rooftop lounge in rounding out the property's dining and drinking options. There's also plenty of meeting space, including the newly constructed Moretti Grand Ballroom, and its ideal location puts nearly all of DC's finest shopping, eating, and sightseeing nearby.
The Watergate complex includes five buildings adjacent to the Kennedy Center in the Foggy Bottom neighborhood of Washington, DC. Covering  10 acres, the buildings include:
Watergate West – apartments
The Watergate Hotel
Watergate East – apartments[2]
Watergate South – apartments
Watergate Office Building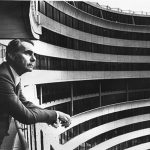 Built between 1963 and 1971, the Watergate was considered one of Washington's most desirable living spaces, popular with members of Congress and political appointees in the executive branch. To modernists like us, it is still desirable. As political junkies, there is added cachet.
It should be noted that DC has a great collection of modernist dwellings.
The complex has been sold several times since the 1980s. In the 1990s, it was split up and its component buildings and parts of buildings were taken over by various owners.